The economy added 222,000 jobs in June, the largest increase since February. Meanwhile, revisions showed job growth was better in April and May than previously thought. The economy has created an average of 194,000 jobs over the past three months. That compares favorably to a monthly average of 166,000 during the first quarter, and a pace of 187,000 for all of last year
The unemployment rate rose to 4.4%, up from the lowest level since May 2001. The higher unemployment rate reflects more Americans entering the labor force in June, but not all of them finding jobs. Federal Reserve officials project the jobless rate will average 4.5% to 4.8% over the long run. The current level of unemployment suggests the economy is at or very near to full employment, or the point at which nearly all job seekers have found work.
The share of Americans holding jobs or actively looking for them rose one-tenth of a percentage point to 62.8% in June. The figure is little changed from 62.7% a year earlier. The labor-force participation rate is still hovering near four-decade lows. That largely reflects an aging population is retiring. But it could also suggest some Americans in their prime working years remain on the sidelines, despite expectations they would rejoin the market as conditions improved.
Private-sector workers saw their paychecks grow a familiar 2.5%, on average, from a year earlier. Wage growth has been stuck near that pace for about the past two years. Wage growth has been fairly consistent but hardly robust. A decade ago, before the recession began, average hourly earnings rose 3.6% from a year earlier. Many economists expect wage growth to accelerate with the unemployment rate at historically low levels.
A broader measure of unemployment rose to 8.6% in June from 8.4% a month earlier. That rate—formally known as the "U-6″—counts not just unemployed workers in the labor force but also Americans too discouraged to enter the job search and part-time workers who would prefer to work full time.
Employers should be taking this opportunity to make sure that they are staying on top their unemployment costs. While the climate is good, the time is right for companies to shop around to find the best software and most efficient processes to protect themelves from those inevitable changes in the employment landscape. Contact Unemployment Tracker for more information on effective Unemployment Insurance cost management.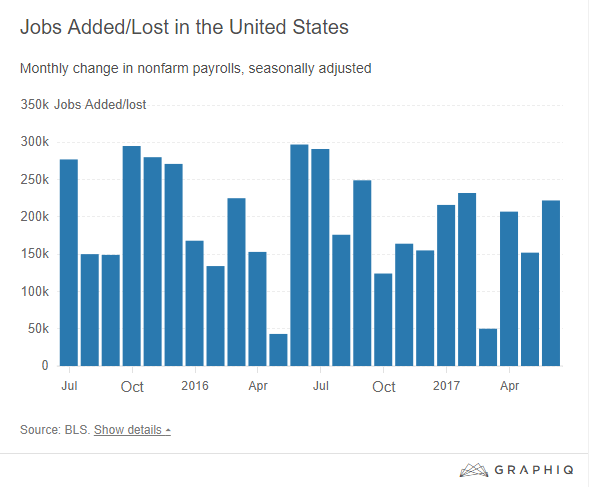 https://unemploymenttracker.com/wp-content/uploads/2018/04/uet-logos-trans-576x110.png
0
0
Brian Paavola
https://unemploymenttracker.com/wp-content/uploads/2018/04/uet-logos-trans-576x110.png
Brian Paavola
2017-07-12 00:00:00
2020-04-06 13:53:24
"Unemployment Rate & Jobs Added/Lost in the US for June 2017"